Today's Google Doodle commemorates the 388th birthday of Charles Perrault with
3 illustrations by Sophie Diao
(above). An academic and author, Perrault was a member of Louix XIV's court and influenced the design /construction of the Louvre and the famous fountains of Versailles, among other things.
His most interesting claim to fame, though, is as "The father of the modern fairy tale." Red Riding Hood, Sleeping Beauty, Bluebeard and others were already spoken of in oral folk tales, shared with children to teach them lessons on morality and act as warnings.
Perrault, however, wrote them down. He gave these memorable characters (& more) life on the page, writing the tales in a way which entertained the upper class which he belonged to. His stories went on to influence the Grimm Brother's and others. For more info on Perrault and his stories, including where to read some online, check out the links at the end of this post.
Now, let's get this party started!
On January 28th, one lucky winner will be selected from everyone who comments on my blog between now and then. This winner will receive an English translation of Perrault's Fairy Tales (Dover Children's Classics).
Plus a matted print of Red's Winter Walk.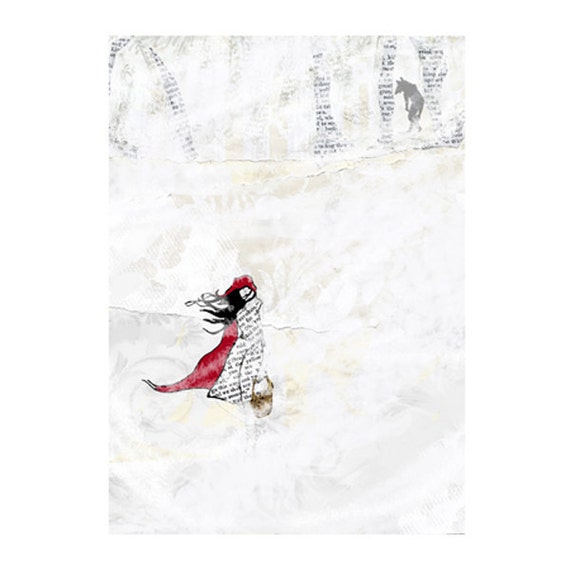 Red's Winter Walk by Stacey Merrill
To Enter The Random Drawing: Simply leave a comment on this blog before 1 a.m. EST on 1/28. It is that easy! If your contact info is not in your profile, please leave an email address so that I can reach you if you are the winner.
The winner will be announced at noon (EST) on 1/28/16. This drawing is open to all. The prizes have free world-wide shipping.
------
Looking for more info about Charles Perrault and his stories?
There is a lot to be found online. Here are a few links to get you started: