I can't believe it is already Monday again!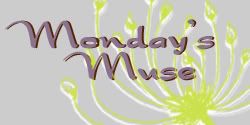 (click above to visit the great blog Maternal Spark)
Today's Muse is Procrastination ….. & Possibilities.
Through my own foolishness, I have become Queen of Procrastination lately. When I was younger I had lots of practice avoiding things, but now it happens by accident more often than choice. My studio/home office/Santa's workshop resembles hell on earth. I can't even show you my planner because it is lost under piles of stuff. To be honest, I am deeply afraid to find my To Do list - I feel overwhelmed as it is. So, I'm supposed to be cleaning this pigsty & instead I'm typing away .......
Sorry about the rant, now for the Possibilities! As I scrape away layers of accumulated stuff, scraps of paper, items to repair, etc. I keep finding lots of really cool materials & many many unfinished projects. Last night I uncovered my markers & a fairy-tale collage started in October. I gave up on cleaning & started coloring. Here is the latest incarnation:
Not done yet. I know what I want to add and I know it is here....somewhere! Time go pick up some more