All week I'll catch some bit of trivia & think how it'll be perfect for
Random Tuesday Thoughts
. Then Tuesday rolls around & I've forgotten them all... sigh.... either I'm getting old or I need more coffee. Probably both. Ah well, I'll give it a go anyway
I have a confession -
Facebook
annoys me.
On the other hand, without
FB
who knows when I'd have stumbled onto this fun mix from
FAROFF
.
(Thanks,
EL

Fudo
)
I've also been enjoying
The Cog is Dead
lately
- fun fun stuff
What are you listening to this week?
Please share - I'm always looking for something new
Hey you artsy folks!
Have you seen the
Artisan Search 2011
from Cloth Paper Scissors magazine yet? Emphasis looks to be on mixed media, jewelry ,
journaling
, collage, or stitchery type stuff. If any of that sounds like you, check it out!
Voting is open over at Mind Wide Open.
Each month Gail posts an image & prompt with an invite to all who want to create something. Then the submissions are posted for voting. If you have the time, click through & pick your top 3.
Ooh- I almost forgot to post this fantastic tool chest.
Many thanks to
The Lost Dream Machine
for pointing it out.
Well, I've gotta run. If you're looking for some more random goodies, pop on over to The
Un
Mom - it's where all of the chaotic kids hang out these days.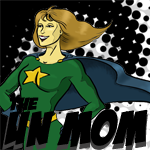 Want to play along?
Grab a purple button while you're visiting The
Un
Mom and stick it to the top of your own rambling Tuesday post.
Dang, I almost forgot -
seems to be a theme today
- Leave a comment on my blog before 1 a.m. (EST) on 5/13 to enter

DigitalRoom's

random drawing for a 2 ft x 3 ft custom printed vinyl banner.
Click Here for details.