Hey there. Looking for a fix-o-random?
Last night I uncovered thousands of photos
I've taken (& then lost) in the computer over the last decade. And I wonder why it runs so slowly.... Oh well, some will make good Random Tuesday Fodder- like this one.
For more wacky signage,
be sure to visit
The "Blog" of Unnecessary Quotation Marks
- I know I've mentioned this 1 before but it is always good for a chuckle.
Waldo Wakira World
is another place to find your smile.
This is where Tomás Serrano posts his fantastic take on the latest
Illustration Friday
prompt each week. One of my recent faves - his spin on
Expired:
I love to read but seem to have less time lately
- this has made me a harsh critic, especially of fiction. I really enjoyed the last 2 books I picked up. I recommend
Wolf Hall
if you have a lot of time & Zachary Mason's
The Lost Books of The Odyssey
if you don't.
Or if you're spending you free time in the studio
(unlike some of us ...cough...cough),
Altered Abbey.com
is having a Going Out Of Business Sale til April 2nd. Great prices on a variety of stuff - leaf skeletons, charms, handmade paper & other fiddly bits.
I know I mentioned
Brasky.org
yesterday,
but I need to link you up again. Check out this
Amazing Grafitti In Miami
segment
Gotta run - the boys are getting restless. And I bet you are too...

Sooo give Super Keeley a tap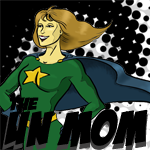 and go get your just desserts....